Cabinets are essential features inside a home, especially in your kitchen. They create a statement about your taste and lifestyle while providing necessary storage for food, utensils, and appliances. But the question is what kitchen cabinet is best when there are so many to pick from.
This article will review the many kitchen cabinet styles, materials, and amenities to consider before purchasing. As a bonus, we'll let you know how to properly choose the best cabinet that would complement well with your kitchen.
Features to Look for in Selecting What Kitchen Cabinet is Best
Buying kitchen cabinets can become a challenging task. DIYers can be forced to compromise the quality of their materials, slides, and hardware. Choosing factors to consider is determined by individual circumstances.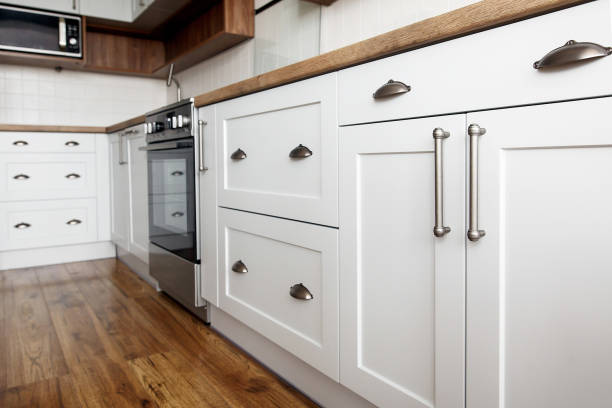 Like any other product, you must consider some essential features before buying a kitchen cabinet. Here is a quick rundown of those features:
Storage space
A kitchen with fine cabinetry will allow you to keep your food, cooking implements, and equipment in one convenient location. Search for cupboards that have both deep drawers and movable shelves.
Durability
The materials used to construct kitchen cabinets should be strong enough to endure repeated use. Try to find MDF, laminate, or wooden cabinets.
Style
The cabinets in your kitchen should complement the room's design. Pick cupboards that match your kitchen's existing cupboards and countertops if possible.
Finish
The best kitchen cabinets are those with a simple, low-maintenance finish. Find cupboards with a tough coating that can withstand a beating without showing signs of wear.
Framed vs. Frameless Kitchen Cabinets
Choosing between frameless or framed cabinets can be important for appearance and functionality. Frameless cabinets have fewer gaps and provide more accessibility and look more modern compared to framed cabinets.
Types of Kitchen Cabinet Materials
The materials used to construct kitchen cabinets range from wood and laminate to MDF and plastic. Choosing a cabinet material influences costs and durability.
1-Wood Cabinets
Cabinets made of wood are the most expensive option, but they also last the longest. Maple, cherry, and oak are just a few of the woods that can be used to construct cabinets. Wooden cabinets can be painted or stained to suit your tastes.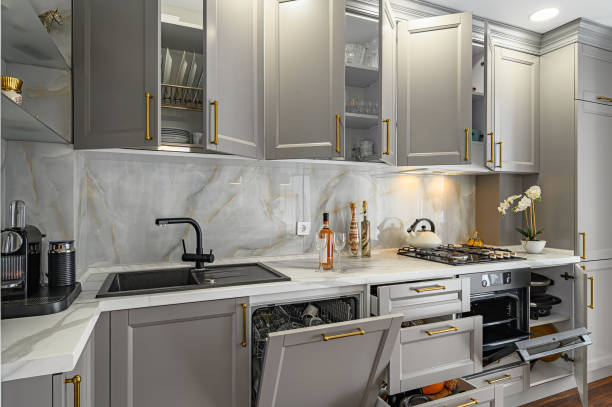 2-Laminate Cabinets
Laminate cupboards are more affordable than wooden ones. The composite material used in constructing laminate cabinets makes them resistant to stains and scratches. Laminate cabinets involve a variety of colors and styles to choose from before buying.
3-MDF Cabinets
MDF cabinets, produced from a composite material resembling wood, are cost-effective. Cupboards made of MDF materials are not as sturdy as wooden ones but may be easily maintained. MDF cupboards can be purchased in various hues and surface treatments.
4-Plastic Cabinets
Plastic cabinets are the most budget-friendly option. This material for cabinets lasts a long time and can be cleaned easily. Styles and colors come in a wide array when choosing plastic cabinets.
What Kitchen Cabinet is Best in Terms of Category
One of the steps in building up a kitchen cabinet is assembling it. Yet, to categorize what kitchen cabinet is best, the materials used for its assembly play an important role. There are three primary kitchen cabinetry categories: stock cabinets, semi-custom cabinets, and custom cabinets.
Stock Cabinets
Cabinets from stock are manufactured in advance. They have conventional dimensions, forms, and colors and few design and functional customization choices. Although stock cabinets are the most affordable and convenient alternative, they may not fit your kitchen or aesthetic tastes.
Semi-Custom Cabinets
Cabinet styles like this have elements of both stock and custom designs. This cabinet style consists of more options in size, shape, color, style, and features than the previous one. Moreover, the cabinet installation and price of this cabinet take longer and higher, respectively. Yet, they may vary according to your specific needs and style preference.
Custom Cabinets
Made specifically for you, no two sets of cabinets are identical. They're the most adaptable and versatile since you can tailor them to your needs. All imaginable dimensions, hues, designs, and functionalities are available. The most expensive and time-consuming option, custom cabinets can give your kitchen a one-of-a-kind design.
Different Styles of Kitchen Cabinets
Many different aesthetic options are available for kitchen cabinetry, from classic to contemporary. Which design you go with depends on personal preference and the style of your existing kitchen.
The most well-liked kitchen cabinet designs include:
Framed Cabinets
Framed kitchen cabinet doors feature a one-1/2-inch wide frame around cabinet doors or front cabinet doors. Despite the stability effects of frames, frame-less cabinets are more robust. Cabinet frames are, however, slightly less accessible due to their reduced opening. Frame-less cabinetry has a more traditional look.
Frameless Cabinets
Frameless cabinets, sometimes called contemporary or European, are framed without the cabinets facing each other. Door and drawer blend with cabinet box appearance and are smoother than framed cabinets. Frameless kitchen cabinets are more easily accessible. Full Access Cabinets is the other name for frameless cabinets.
Shaker Style Cabinets
Shaker style cabinet doors are the most popular cabinet door styles because they can be very functional regardless of your modern, transitional style. Also known as the "five-piece" doors, Shaker-style doors have a primarily rectangular surface with a railing and stiles forming vertical sections. Its simplicity means it can complement many kitchens in any style.
Slab Cabinet Doors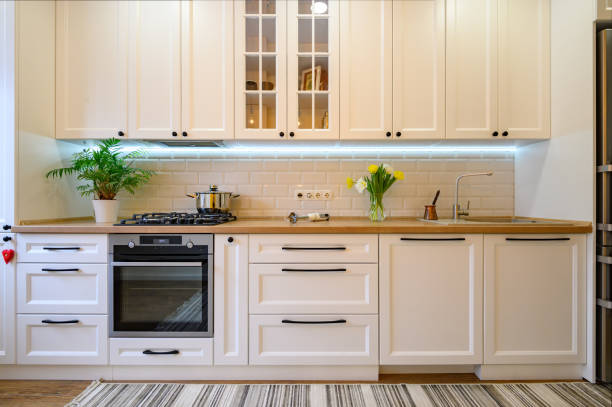 Imagine a modern kitchen, and you'll most certainly imagine a slab cabinet door. Also referred to as flat panels cabinet, the structure comprises a single smooth surface of hardwood plywood or MDF in various shapes. Flat-paned panels can be found in multiple colors and veneer finishes.
It is also clean with contrasting white cabinetry and looks elegant without visible hardware. Flat-panel cabinets portray a minimalist feel, but it's not just eye-catching. The slab kitchen cabinets come in various minimalist colors and finishes.
Traditional Kitchen Cabinet Style
Maple, oak, and cherry wood are the standard materials for traditional cabinets. Simple and classic in style, they are often finished with paint or stain. Traditional cabinetry or transitional-style kitchen cabinets are frequently found in older homes.
Some benefits of classic kitchen cabinets include the following:
They're built to last and can serve you for decades.
They may be easily cleaned and cared for.
They can be altered to suit different kitchen designs.
They improve your home's resale price.
Some drawbacks of conventional kitchen cupboards include the following:
They may be costly.
Installation may prove difficult.
They may be cumbersome to relocate due to their weight.
Traditional kitchen cabinets are hard to beat regarding durability and timeless style. They may be altered to suit different kitchen designs and are simple to keep up with. However, they can be complex to set up and costly.
Beadboard Cabinets
Beadboard cabinets are a popular option for a traditional and ageless aesthetic in the kitchen. They are constructed from a series of staggered, tiny rectangular panels. You may find these cabinets in various colors and styles to fit your needs and preferences.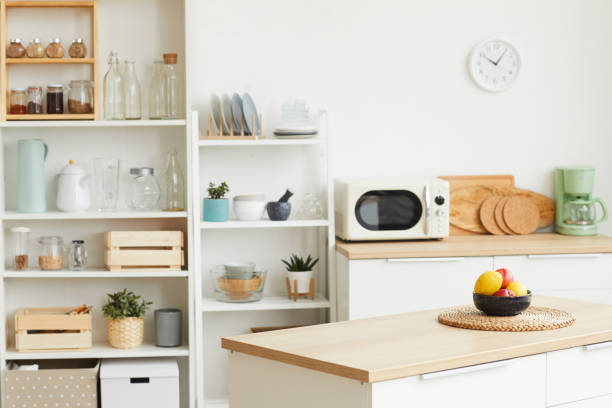 There are a lot of perks to having beadboard cabinets in your kitchen. They require little maintenance and may be altered to complement virtually any decor. If you have kids or pets at home, this home cabinetry is perfect for using its less likely damage feature.
Consider a few things to consider if you want to install beadboard kitchen cabinets in your home. The first step is selecting a design that suits your kitchen's aesthetic. Second, think about how much space you have in your kitchen and pick cabinets accordingly. Finally, beadboard cabinets will set you back slightly more than standard cabinetry.
Beadboard kitchen cabinets, in general, are attractive and adaptable, which are factors in increasing your home's resale value. Beadboard cabinets are a great option if you want your kitchen to have a traditional, ageless aesthetic.
Glass-front Cabinet
Cabinets with glass doors or doors are known as glass-front cabinets. Store your prized china, crystal, and collectibles in style with these beautiful display cases! Wood, metal, and plastic are just a few materials that can be used to construct cabinets with glass doors. The colors and styles of the final product are also customizable.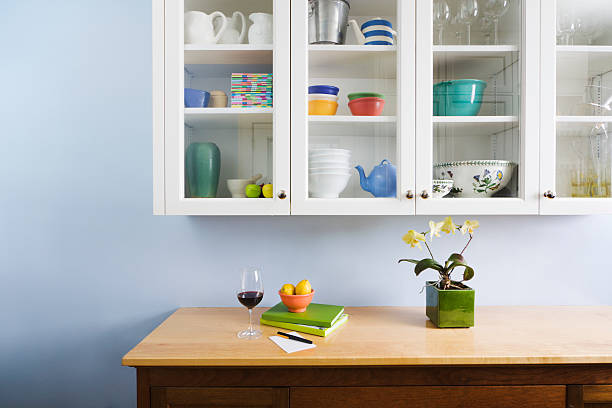 The benefits of glass-front cabinets over conventional cabinets are numerous. Initially, you can have a sneak peek of what's inside, and monitoring the content becomes more manageable. Second, they can potentially elevate your interior's overall style. Third, they can keep dust and other elements from wreaking havoc on your possessions.
Some considerations are available before bringing home glass-front cabinets. The first step is choosing the material the cabinet will be constructed from. Second, select a surface treatment that harmonizes with your interior design. Third, consider identifying the type and cabinet size best suits your needs.
After considering these things, you can begin searching for glass-front cabinets. Before making a final decision, shop around and evaluate pricing and features. You can choose the ideal glass-front cabinet for your house from the various possibilities available.
Frequently Asked Questions:
Q: What are the longest-lasting kitchen cabinet options?
A: Kitchen cabinets from solid wood species like maple, oak, or cherry are built to last. These types of wood are impervious to dampness and scratches and are simple to fix if damaged. Kitchen cabinetry can also be made from laminate, medium-density fiberboard (MDF), or particleboard. Laminate is an artificial substance that holds up well against heat and water. The cost of MDF and particleboard is lower than that of natural wood, but it does not last as long.
Q: What is the most efficient kitchen cabinet design?
A: A good kitchen layout is a U-shaped or island kitchen. This layout provides ample counter space for cooking and allows fluid movement throughout the room.
Q: Is it possible to have too many kitchen cabinets?
A: Factors like budget, cooking space, storage area, and style preference all matter in determining the number of kitchen cabinets you need. One linear foot of cabinet space for every 2 to 3 square feet of kitchen floor area is a decent rule of thumb. Moreover, the number of pieces of your utensils, kitchenware, and other essentials will affect your storage space requirement.
Q: Am I able to install my kitchen cabinets?
A: DIY kitchen cabinet installation is possible. However, it is a challenging task requiring planning and execution. You should employ a professional to install your kitchen cabinets if you lack carpentry or home remodeling skills. Being ready for the DIY cabinetry and taking your time may lead you to success. However, the lack of skills may necessitate you to call a professional.
Q: What comes first, the upper or lower cabinets in a kitchen?
A: To start with, install the lower cabinets first before proceeding to the installation of the upper cabinets. This is because the bottom cabinets offer a level and solid platform upon which to work when installing the upper cabinets. Because of their attachment to the base units, the upper cabinets require assistance from the latter during assembly.
Q: What is the average lifespan of kitchen cabinets?
Kitchen cabinet durability is relative to the kitchen's environment, the cabinets' design, and the homeowner's care. A well-built cabinet can survive for decades with proper care and high-quality materials, whereas a cheaply produced one could only hold up for a decade.
Final Thoughts
Your cabinet is one of the main features inside the kitchen. You may use it to keep your kitchen neat, which will also have an aesthetic impact. With that in mind, choosing the best kitchen cabinet based on your need is crucial. Aside from that, investing your time in the decision-making process is generally essential.
You will have the most excellent kitchen cabinet for your needs and preferences with research and comparison shopping. The most excellent kitchen cabinet is the one that serves your purposes, complements your home's aesthetic, and doesn't break the bank. Further, investing your time in looking for the perfect cabinets for your kitchen may give you a newly aesthetically appealing cooking area.
If you want for more kitchen or home remodeling, here's a guide on how to install crown molding on cabinets.