The kitchen is the heart of the home, and a newfound harmony of cabinet hues is captivating homeowners and designers alike. The time for hiding out and playing it safe has passed. Colors that sing with personality, elicit emotions, and create visual fireworks are trending in today's kitchens. So, what kitchen cabinet colors are popular?
This fascinating look into the most popular ones will take you on a visual journey from the tranquility of pastels to the daring mystery of dark tones. Grab your paints and come along as we explore the colors that are making headlines in the dynamic field of kitchen decor. It's time to add some of your flair to the room!
What Kitchen Cabinet Colors Are Popular: How to Choose Paint for Kitchen Cabinets
Your kitchen's cabinet color should reflect your preferences and the space constraints you're working with. Here are some considerations for choosing the most popular kitchen cabinet paint colors.
Think About the Atmosphere You'd Like Your Kitchen to Have
Feel the ambiance once you enter the kitchen, regardless of whether you own it. For instance, choose a brighter, more airy shade of paint to make your kitchen feel more open and more delicate.
Meanwhile, opt for vibrant hues if you want your kitchen to have a bold personality. After the quarantine period ended, natural tones became increasingly popular in modern kitchen design.
Take Size and Lighting into Account in Your Kitchen
What kitchen cabinet colors are popular you can use depends on the size and layout of your modern kitchen. A room will feel more extensive because of lighter colors that reflect light, while darker hues that absorb light will make the area feel cozier.
How much natural light enters your kitchen depends on its windows' orientations, less sunlight during the day than more extensive. Windows facing north in the Northern Hemisphere receive less sunlight during the day than those facing south.
Therefore, lighter kitchen cabinet colors are recommended for relatively small kitchens with north-facing windows. On the other hand, darker cabinets are acceptable in a larger kitchen because there is more wall space for your eyes to take in the hue.
Keep Your Walls, Counters, and Backsplash in Mind
Although your cabinets will take up most of your kitchen's floor area, you should also consider the room's other features.
Your kitchen cabinets will look great against a wall painted with a light neutral hue like beige, mild gray, or white. Try with some more delicate cabinet finishes and brighter wall colors if you have less wall space to work within your kitchen.
Your kitchen's countertops and backsplash are other significant components that should complement your cabinets. The backsplash is on the same visual plane as the cabinets, so you should choose its color and pattern before you choose the countertop material.
The Home's Resale Value Should Be a Primary Concern
Depending on the circumstances, you may wish to choose what kitchen cabinet colors are popular with potential purchasers in mind. You won't need to put as much effort into making your home look good to possible purchasers if it's your lifelong home. However, kitchen cabinet paint colors choice become more significant if you plan to sell your home soon.
Buyer interest is increased by neutral colors like white, gray, and brown. Modern kitchen cabinets in a light color, such as white, provide an air of calm and happiness. Because it's harder for them to picture themselves living in your home, buyers are more likely to pass on a house painted in a bright or dark color.
What Kitchen Cabinet Colors Are Popular: The Top 5
It is challenging to pick up new colors for your kitchen cabinets. This comes true regardless if you are doing this from zero or making the old ones look new. Although decorating your home is always correct based on your style and preference, each space has a particular hue that suits them.
All of these hues will make your kitchen feel different but cozy and homey:
1-White
A kitchen painted a crisp, pure white can feel modern and classic at the same time. It's a neutral color that goes with a wide range of kitchen decors and complements a wide range of countertop materials and backsplashes. White cabinets are a blank slate upon which you can creatively apply various treatments.
The Most Popular White Paint Colors for Kitchen Cabinets
If you are choosing white as your kitchen cabinet paint colors, check below for the best choices:
✳️Benjamin Moore's Simply White
Architects say Simple White by Benjamin Moore has become the go-to paint color for kitchens. And it's not a surprise that warm white can warm even the dirtiest kitchen layouts. Similar to many white paint colors, it works best in full sunlight.
Its very light yellow color is highly recommended for kitchens with lots of northern or more relaxed light. Because the kitchen is often the busiest part of the home, Simply White (OC-117) offers a warm atmosphere that allows families, friends, and their families to relax in a quiet area.
✳️Pure White by Sherwin-Williams
Pure White by Sherwin Williams is another preferred color for cabinets by most homeowners. This popular white cabinets color in kitchen cabinetry reaches an unusual balance of warmth with cooler temperatures. The upper shade suits a streamlined upper color for a two-color configuration. Pure White (SW 7005) now has brighter white than Dove's white. Consequently, the slats, like vein quartz or marble, complement the white countertops.
✳️Creamy White Kitchen Cabinets Color
Creamy white kitchen cabinets are characteristic of a typical kitchen. Dark stone countertops and clean white cabinets paint give this kitchen a charming Craftsman-inspired cabinet with warm yellow walls. A polished nickel pulley adds an aged appearance.
2-Gray
It's not hard to see why gray has become such a popular neutral among interior designers in recent years. Subtle gray can offer refinement and sophistication, while dark gray can make something look contemporary. Gray is a great neutral hue that complements many shades and can be the foundation of a stunning kitchen design.
The Most Popular gray Paint Colors for Kitchen Cabinets
Gray paint colors continue to be favored in cabinets because they offer flexibility and a modern look. Consider which undertone of grey cabinets is warm or cool. These kitchen cabinets feature a warmer temperature, complementing the taupe or off-white tiles.
✳️Light Gray Kitchen Cabinet Colors
Custom cabinetry features an elegant neutral look by adding a gray hue. Its sleek combination of classic cabinets and warm gray colors creates a casual, relaxing kitchen environment. Rich hardwood floors with crisp white edges provide contrast. The cabinet paint color looks like soft taupe.
✳️Grayish or Dark Greens
In our view, gray-green will stay the same color as dark gray in the kitchen cabinets. The green color reflects almost everything in aesthetic terms and is ideal for the person who needs modern-style kitchen cabinetry.
3-Blue
The kitchen is an excellent place for the energizing hue of blue. A kitchen cabinet with a deep navy blue color scheme can feel luxurious and classic. It goes well with wood, natural stone, and brass or copper accents. While many homeowners choose navy blue for its startling and dramatic effect, lighter tones can be just as effective in creating a crisp and clean appearance.
The Most Popular Blue Paint Colors for Kitchen Cabinets
The navy blue is one of the most stunning colors in the cabinetry. It has vivid colors giving you a very intimate ambiance. The dark blue kitchen cabinetry is elegant and offers a classic appearance.
✳️Sherwin Williams' Naval SW 6244
The blue cabinets in a kitchen have become very popular, and the naval (SW 6244) by Sherwin-Willimson is one. The dark navy color palette in the kitchen is fashionable. However, picking a more neutral color for your kitchen is essential. In this vein, the Naval doesn't disappoint.
This deep blue color can work as an accent kitchen cabinet color or in comparison with the kitchen island color. Our favorite pairings include navy with white sinks or gray countertops. Like fashion, these gorgeous blue hues work well on brass-tone cabinet handles and knobs.
4-Black
Black is a terrific option to give your kitchen cabinets a luxurious makeover. It's contemporary and chic and looks excellent with metal accents and natural wood accents. If you want to make a statement with an industrial vibe, try combining your black cabinets with white or light-colored walls and a concrete countertop.
The Most Popular Black Paint Colors for Kitchen Cabinets
Give the kitchen cabinets a quick refresh and new paint. It can be helpful to have an eye on the color of the cabinetry. We will share these black hues that would suit your style.
✳️Black Tricorn (SW-6258)
Tricorn Black is a natural black kitchen cabinet paint color that is exceedingly neutral. It lacks nuance and complexity. The color remains consistent under varied light conditions. This is a foolproof option for individuals seeking black cabinets paint color, as it contains no overtones.
It's often used for wall trim, door frames, and accent walls. Because it reflects so little light, it is best used on the exteriors of smaller residences rather than entire neighborhoods.
✳️Iron Ore by Sherwin-Williams
Iron ore is a very dark charcoal gray or a very soft black. It's not as challenging to decorate with real black, but it still appears black in many contexts.
5-Green
No, we're not discussing the avocado green of your grandmother's 1970s house decor. The modern green of today is a breath of fresh air that allows for endless customization. And the natural wood finishes are just gorgeous.
Green kitchen cabinets are available in various colors, from mint freshness and earthy colors to lush green leaves. The color green brings nature as a calm shade, and the kitchen cabinets make an excellent design feature, a subtle background for bright backsplashes and kitchen flooring. It also makes it worthwhile.
Green paint is a great way to eliminate scratches from the kitchen cabinet, reducing the time needed. The green kitchen designs have overtaken blue kitchen cabinets schemes in popularity this past quarter. Green is a versatile color that can be adapted to the style of any modern house and is equally suitable for a current home.
The Most Popular Green Paint Colors for Kitchen Cabinets
Here are some popular options for green cabinet colors:
✳️Rookwood Dark Green (Sherwin Williams)
Green cabinet colors have become a trend in many kitchens this year. So, it is logical for us to add the Rookwood Dark Green (SW2816) by Sherwin Williams. The beautiful green kitchen cabinets have always gone under the radar. As a forest color, it works perfectly in natural contrast with the kitchen island's color.
Surprisingly, Sherwin's darkest green paint color is the perfect choice for bold cabinet designs. These deep green kitchen colors complement brass lights, natural hardwood floors, or butcher block countertops.
✳️Cool Mint Cabinet Paint Colors
The dark green-colored cabinets soften these tough-edged kitchens. The pastel paint lightens the space, reflecting the shiny white tiles on the backsplash. It features antique lighting and brushed bronze hardware and has a mix between modern and old.
✳️Sage Green Kitchen Cabinetry
Earthy Sage is sweet and mild but can be enhanced in many dishes in the kitchen. Cabinet colors may vary from light to dark green base. Try to decorate your kitchens using this delicate hue instead of graying the cabinets.
✳️Studio Green by Farrow and Ball
The best color in the cabinet is Studio Green by Farrow & Ball. It's the dark green color of the brand-new paint. It lights beautifully and retains its rich color.
Despite appearing scary, dark hues such as Studio Green can make smaller rooms appear larger. Studio Greens shaker style cabinetry is designed to make a bold statement. Regardless, you can paint your shaker style cabinetry with flat surfaces, making your shakers stand out.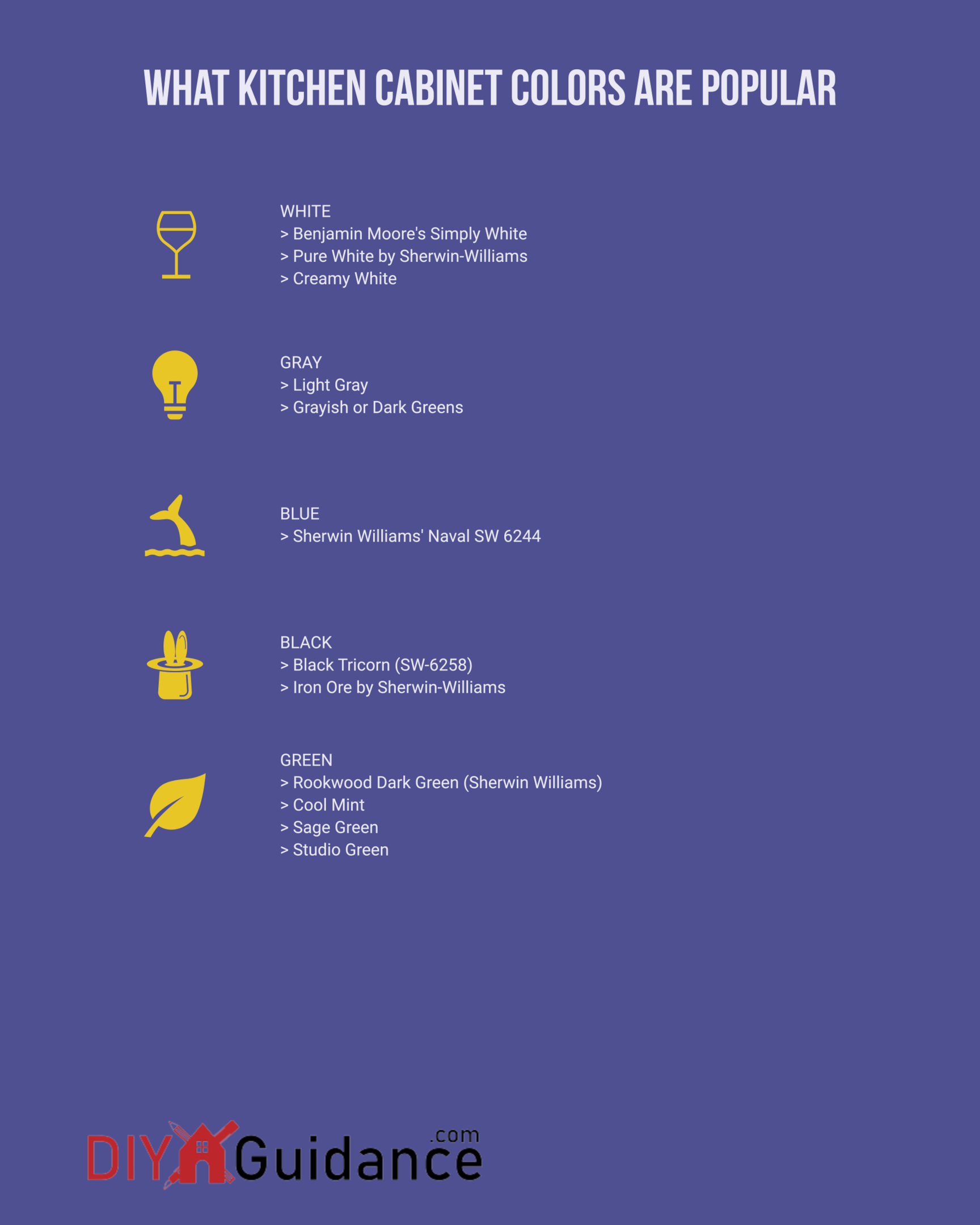 Colors for Kitchen Cabinets that are on the Rise
Aside from the top 5 most popular kitchen cabinet paint colors, the following shades below also make their name on kitchen cabinetry.
The Two-tone Approach
A two-tone arrangement offers a more detailed approach without requiring too much complexity. Many painting charts are sorted into family colors, making it easy for people looking for two shades that work together or contrast. Remember that darker colors need more room visually. Use darker shades for eyes and a lighter shade closer to the wall color above.
A Warming Yellow or Orange
Bolder, warmer, and darker shades are increasingly trending for cabinet paints. These bright shades can be used throughout or within sections. These are energetic colors that provide an ideal backdrop to an intimate kitchen.
This color is best used in more straightforward cabinet designs like slabs and shavers instead of traditional cabinets for a modern feel to keep it current in its aesthetic. These can also be used in smaller rooms, though lighter shades of color are preferable to bolder versions, which can be too dominant.
The Hot Red Kitchen Cabinet Color
This one should be considered if you need kitchen color ideas that don't date. Red kitchen ideas have some moments, and I see this as proving why. A bright shade gives the rustic kitchen a warm glow. Those muted oranges-red shades work well with this home's bare floors and authentic details. Rich, elegant, and striking, the colors of these cabinets could convince you to stop using conventional cabinets.
Zesty Orange Kitchen Cabinet Color
Make the kitchen fresh with a citrusy flavor. The bright orange cabinet color offers a fantastic contrast between crisp black kitchen counters and a shiny white backsplash. The majority of greys are well blended with orange shades.
What should I do to Get the Best Kitchen Cabinet Color?
To begin picking out kitchen cabinet colors, consider the mood you want to create.
An interior designer advises,
Think about how it might relate to the living and dining areas, especially if it is part of an open-plan space, and how it fits with your overall plan for the house.

Tiffany Duggan, founder of Studio Duggan
Gather pictures of kitchens you like and start refining your ideas, considering the size of your kitchen, the other joinery in the house, and the age of your home.
The next step after choosing kitchen cabinet colors is to paint them by watching tutorial on painting kitchen cabinets.
Frequently Asked Questions
Q: What is the most popular kitchen cabinet color for 2023?
A: White is a popular color for kitchens in 2023. We see an increasing trend toward warmer tones. We offer a range of colors for Benjamin Moore and Sherwin Williams, including simple white, Dove white, and Chantilly Lace. Similarly, we included photos of before and after cabinet painters with deep forest green and navy blue hues.
Q: What paint sheen is best for kitchen cabinets?
A: Kitchen cupboards should have a semi-gloss finish and a satin finish. Generally speaking, gloss is the shiniest finish, followed by semi-gloss and later in satin. The semi-gloss finish is easier to clean than satin cabinetry. All have luster compared to the typical eggshell, matte, plain finishes commonly found on walls.
Q: What is the most popular cabinet color for kitchens?
A: White will remain the most popular kitchen cabinet color by 2023. In recent years we have seen warmer and naturally toned colors increase. Our cabinet color options include simple white dove white Chantilly Lace and Benjamin Moore.
Q: What color kitchen cabinets sell best?
A: In fact, cabinetry has been painted in various colors, such as white, gray, navy, blue, green, or black. The light, neutral color of the furniture is typically the best color for reselling because it appeals to most.
Q: What is the most timeless kitchen cabinet color?
A: White cabinet colors can be regarded to be enduring. It has been famous for more than 450 years. I'd instead not be surprised at the white cabinets' crisp white beauty. It libels and creates air freshness in all rooms.
Q: What color kitchen cabinets go best with what color walls?
A: A kitchen with dark walls might be brightened by installing cabinetry of a contrasting color. You can use a deeper shade of cabinetry with lighter walls.
The combination of white walls and white cabinets is also a good idea. For instance, a kitchen with white walls and light gray cupboards would feel bright and airy.
Q: Should you use the same PAINT SHADE for your cabinets as your trim?
A: It's up to you to decide. Having cabinets and trim in the same color can help create a unified look and feel. Alternating white trim and gray cabinets create visual intrigue and a splash of color.
Q: Any suggestions on how I can make my tiny kitchen seem more spacious?
A: If you would like your kitchen to appear more spacious, painting the walls and cabinets in lighter hues is one way to do this. This will create the impression that your kitchen is roomier than it actually is and will make the space feel more open and breezier!
Final Thoughts
When it comes to giving your kitchen some flare and individuality, there are plenty of alternatives, as we've seen as we explore the most popular kitchen cabinet colors. There is a wide range of options, from the classic beauty of white cabinets to the daring attractiveness of navy blue. What matters most is picking a shade that makes you happy and adds a sense of harmony to your kitchen.
Color trends come and go, but how you express your individuality via your wardrobe is timeless. You can make your kitchen a place that expresses your personality and endures the test of time by using bold and bright colors on your cabinetry. Have fun picking out a new hue for your kitchen cabinets!